About Martin Avenue Pharmacy
For over 40 years, we at Martin Avenue Pharmacy, Inc. have been committed to bringing you the very best professional quality and service. We are a full service, custom compounding pharmacy in Naperville Illinois, and our customers have come to us for years to have their prescriptions filled and to chat with their pharmacists.
Despite our ever-increasing technology, we have not become a mail order mill or a chain store. We know our customers by name and try to give each individual the personal attention they deserve. We'll do that for you, too.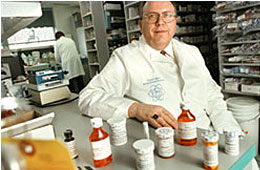 We offer a multitude of services so that you can find information, products and solutions.
Compounding "Custom Medications for You and Your Pet."
Full Service Pharmacy "Big enough to serve and Small enough to care."
Refill Prescriptions "Have your prescriptions filled with a smile."
All Natural Section "If you're into Nature, it's only natural you'll want to stop by our 20 foot section."
Medical Equipment and Supplies "We provide the simplest to the most complex assisted living devices."
Braces "Whether it be an athletic or a work injury, we can provide you with the proper support."
Support Stockings "Stop by today, and feel the difference our 20 foot display can make."
First Aid Supplies "Everything you need for you and your friends."
OWNER PROFILE: Tom Marks / Compounding Pharmacist Consultant, & Medication Problem Solver
PHARMACIST-IN-CHARGE: Roopinder Ahluwalia, Pharm D.
Credentials
University of Illinois College of Pharmacy: Bachelor of Science in Pharmacy 1971
University of Illinois: Advisory Committee 1985 – 1988, by the Governor of Illinois
Certifications
University of Illinois College of Pharmacy, B.S. Degree, 1971
Registered Pharmacist, State of Illinois from 1971 to Present
Certified Surgical Appliance Technician from 1974 to Present
Professional Compounding Centers of America:
Primary Training Certificate 1985
Sterile Compounding Training Certificate 1998:
Member Of:
Illinois Pharmacist Association (1971 to Present)
American Pharmaceutical Associate (1971 to Present)
NCPA – National Community Pharmacist Association (1979 to Present)
A.C.A.: American College of Apothecaries, Elected Fellow into Academy 1994 to Present, only two percent of Pharmacists are Selected to Join.
I.A.C.P. : International Academy of Compounding Pharmacists (1995 to Present)
A.C.V.: American College of Veterinary Pharmacists (Less than 0.5% Invited, 1998 to Present)
American Diabetes Association (1991 to Present)
PCCA: Professional Compounding Centers of America (1985 to Present) Selected to join.
Christian Pharmacist's Association (1991 to Present)
Du Page County Pharmaceutical Association
Awards
National Pharmacist of the Year
2003 from P.C.C.A . (Professional Compounding Centers of America)
[ click here ] Martin Avenue Pharmacy is a BBB Accredited Pharmacy in Naperville, IL
National Pharmacist of the Month from P.C.C.A.: September 1988
Guest Speaker of numerous PCCA National Conventions and Regional Seminars
Developer of Life Saving Pulmonary Medication
Author of many Pharmaceutical Journal articles both Local and National