How to Get Custom Medication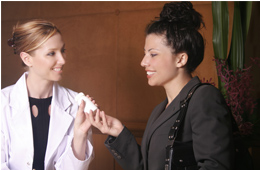 Compounding is achieved through an essential triad relationship – patient, physician, and pharmacist. The physician first prescribes the custom medication, and then the pharmacist takes the necessary ingredients, compounds them, and dispenses the medicine to the patient after a thorough consultation.
By talking with your doctor, you can decide whether a custom-made (compounded) medication is right for you. If you do need a custom-made medication, your doctor will give you a written prescription. By working together with you and your doctor, Martin Avenue Pharmacy is able to create a medication that is suited to your specific needs and complete the triad.
How long does it take to get a medication that is made by compounding filled?
Each Prescription is compounded differently. Some compounded prescriptions take a few minutes, others can take up to a few days. Therefore, we recommend that you call in your compound prescription in advance for faster service.
How Do I Refill my Custom Medication? click here to find out